Our computer laser checks are compatible with top-rated financial software programs including Quicken, QuickBooks, MSN Money, Peachtree and virtually any other software. Choose from a wide selection of professional designs. Take your business to a new level when you customize your laser voucher checks with your logo and/or custom message over the signature line.
3 CHECKS TO A PAGE
MORE COLORS INSIDE
---
LASER WALLET CHECKS
MORE COLORS INSIDE
---
CONTINUOUS CHECKS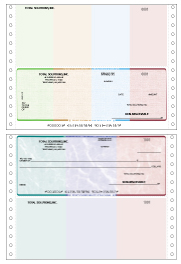 MORE COLORS INSIDE
---
---
Will QuickBooks print check stock where the check is in the middle (i.e. voucher, check, voucher) of the page?
QuickBooks will only print in the following styles: - Checks on Top, 3 Checks to Page, and QuickBooks Wallet Style. QuickBooks does not print in the Checks in Middle or Checks on Bottom styles.
What are Continuous checks?
Continuous checks are used in a pin-fed printer. Perforated at the end of each check for easy distribution, Continuous checks work well for businesses who have a large quantity of checks to write for accounts payable and payroll. Continuous checks are compatible with Quickbooks, Sage 50, Peachtree, and many more...
What styles of checks are compatible with Sage 50 software or Peachtree software?
Computer Checks in Middle are guaranteed to be compatible with all forms of Sage 50, Peachtree, DacEasy, and other software. Sage 50 software allows you to print checks in the Check on Top and Check on Bottom styles as well.