Quicken
WALLET CHECKS
MORE COLORS INSIDE
---
Quicken
CONTINUOUS CHECKS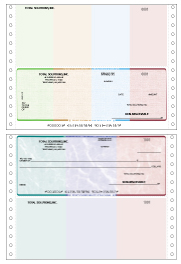 MORE COLORS INSIDE
---
---
Will Quicken print check stock where the check is in the middle (i.e. voucher, check, voucher) of the page?
Quicken will only print in the following styles: - Checks on Top, 3 Checks to Page, and Quicken Wallet Style. Quicken does not print in the Checks in Middle or Checks on Bottom styles.
If you're responsible for payroll, then you understand the importance of printing out accurate paychecks each month. Fortunately, we have an easy solution that will improve the process of your company's payroll processing.

In the 21st century, many companies use the accounting software program Quicken for all of their payroll needs. Quicken makes it easy to process paychecks, and we have a way to make it even better for your company— we offer a professional line of paychecks that work directly with Quicken. Once you've completed your payroll for the period, then all you have to do is to load our compatible check paper products in the printer and click the print button.

Our line of business checks come in a variety of formats for every business— you'll love our security features that will ensure your staff's checks don't fall into the wrong hands. We offer a continuous check style, checks on top, three checks to a page and wallet style. We can also customize your payroll checks with your logo and message. We offer different colors to pick from for a specialized look to set your company apart, and our checks are easy and efficient to use.

Quicken laser checks are compatible with Quicken and Quicken software. Choose from a wide selection of professional check designs. Take your business to a new level when you customize your laser voucher checks with your logo and/or custom message over the signature line.