Quicken laser checks are compatible with Quicken and Quicken software. Choose from a wide selection of professional designs. Take your business to a new level when you customize your laser voucher checks with your logo and/or custom message over the signature line.
Quicken
WALLET CHECKS
MORE COLORS INSIDE
---
Quicken
CONTINUOUS CHECKS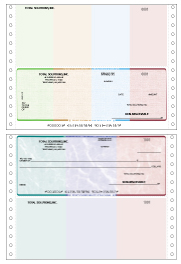 MORE COLORS INSIDE
---
---
Will Quicken print check stock where the check is in the middle (i.e. voucher, check, voucher) of the page?
Quicken will only print in the following styles: - Checks on Top, 3 Checks to Page, and Quicken Wallet Style. Quicken does not print in the Checks in Middle or Checks on Bottom styles.